Retirement Planning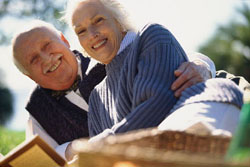 Retirement is one of the most important life events you'll experience, and getting it right takes planning. Making sure you have a comfortable retirement from a personal and financial perspective is a long process that takes years of following a plan and continuous saving. Once you've reached your financial goals, managing your retirement is a continuing process that lasts the rest of your life.
THE IMPORTANCE OF PREPARING FOR RETIREMENT
Retirement should be enjoyable. For many, retirement is an opportunity to do all the things you couldn't do while working. Financial stability can be difficult to accomplish without a salary. A retirement plan can help you pursue the necessary stability desired during retirement. Motivations for developing a retirement plan can include:
You want security – You want to enjoy your retirement without being stressed or worried about money.

You want financial security – Financial stability is a must for anyone approaching retirement. The bills aren't going away when you retire. As a result, having a retirement plan is critical in order to provide the much-needed financial security.

You want to be able to live without having to worry about money – It's stressful to be concerned that you'll run out of money without a backup plan. A retirement plan can help you pursue your goals and the finances needed to support them.
Below are some things you should consider when retirement planning:
What will it be like to retire? Is it possible that we are overspending?
What if we're not putting aside enough money? How often should we put money aside?
Is it possible that we may run out of money in retirement? Are we putting our money in the proper places?
How much money will we require in retirement? Will we be covered by government and employer pension programs when we retire?
I believe in being prepared, and will assist you in completing all of the necessary retirement preparation. You can risk financial instability if you don't have a retirement plan. I genuinely care about my clients and aim to help you pursue the comfortable retirement lifestyle you desire.